Construction Services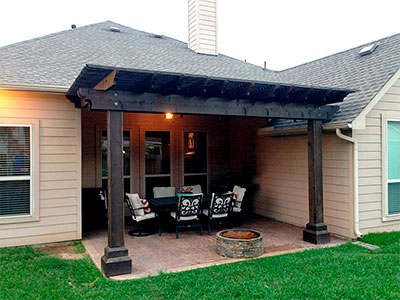 At JLC Construction, we handle various projects, including the design and installation of patio covers, pergolas, pavilions, outdoor kitchens, fire pits, fireplaces, and other outdoor features. But that isn't all. We also handle a variety of interior remodeling works, so you get comprehensive services under a single roof. We have the skills, resources, knowledge, and expertise to tackle all big and small jobs in this area to industry standards. We focus on delivering the best possible results to all our clients. We recognize that our clients expect high-quality at cost-effective pricing, which we provide every time. We offer customized services, personalized attention, and the best quality installations within your budget. We are committed and passionate about our work, and these aspects shine through in every project that we handle. Here are some more details about our services in Tomball, TX.


Patio Covers
A patio cover is an excellent addition to your property that will prove to be a worthy investment. Patio coverings extend the useable exterior area and enable you to enhance the overall beauty of your home. You can use them in various ways, including a perfect spot for relaxation. You can add outdoor furniture; and create additional hosting space. Extend the area's functionality under your patio cover with an outdoor dining space and outdoor kitchen along with a fireplace or fire pit. There are many possibilities for how you can use and design the area to fit the unique demands of your family. We construct our patio covers with top construction materials, which allows them to integrate seamlessly into your property and seem as if they were built along with the house rather than added afterward. We take pleasure in every job, paying attention to detail. You can be sure that we will deliver a high-quality patio cover that meets your needs. Read More About Patio Covers »


Pavilions
We provide personalized pavilion design and installations of the highest quality. A pavilion is an enclosed structure that sits alone. These structures look great in any area in your yard. You can install them by the poolside or a hidden nook to create a pleasant retreat. Attaching a patio covering to your house is not viable in certain circumstances. Pavilions are an excellent option since you can install them near your house structure, creating the illusion of a connected, covered area without encroaching on your property. Pavilions provide a useable outdoor space and enable you to enhance the overall appearance of your property. There are many possibilities for using and decorating the area to fit the unique demands of your family. You can install several conveniences to your pavilion area to improve it and establish the ideal retreat you've been dreaming of. Read More About Pavilions »


Pergolas
Pergolas are an excellent way to increase the usability of your yard area. They are a kind of wooden structure that may be connected to your house or constructed independently. The rafters are typically placed approximately 2" apart and have trusses along the roof to give shade covering for your area. Pergolas are a fantastic option for families wishing to add a covered area to their yard but do not want a patio cover and prefer a more compact addition to their property. Pergolas offer a natural aspect to your yard, highlighting your landscape or other amenities without taking over. We construct our pergolas from cedar, which enhances your garden's landscape and natural surroundings. Read More About Pergolas »


Outdoor Kitchens
Outdoor kitchens are a sound investment because of the many advantages they offer. They add more value to your outdoor space by enabling you to maximize the use of existing space. Extend your kitchen area to accommodate holiday gatherings and parties. Let your air conditioner rest throughout the summer by cooking meals outside rather than heating the kitchen inside. Allow your children to avoid dragging in mud from the yard or water from the swimming pool by placing a refrigerator on the patio. You can have lunch, a snack, and dine by the pool. With your new professionally built outdoor kitchen, your outdoor area will transform into the ideal place to enjoy leisure time with family and friends, creating more memory-making moments. We have the expertise, abilities, and imagination necessary to design your perfect outdoor kitchen. We can offer design, size, placement, and appliance selection suggestions. Read More About Outdoor Kitchens »


Outdoor Fireplaces and Fire Pits
You can add several amenities to your backyard to improve its usefulness and ambiance. A fire pit or an outdoor fireplace are excellent additions to any yard area. These features can enable you to use the outdoor spaces optimally, and we can help you design a versatile fire feature solution for your family's and your unique space's demands. Adding a fireplace or fire pit is a great way to enjoy your backyard all through the year. They add a distinctive design element to your backyard and help create a cozy atmosphere. Our outdoor fire pits and fireplaces are constructed using high-quality brick or natural stone materials. These materials contribute to the distinctive appearance of each installation. No two brick pieces are identical, and natural stones always exhibit unique patterns and hues. Our team will work closely with you to determine your requirements and desires for an outdoor fireplace installation. Read More About Outdoor Fireplaces and Fire Pits »


Roofing
We are a roofing company with clientele located throughout the region. Most business and residential property owners depend on us due to our decades of expertise in the construction business, our highly experienced workforce, and our use of high-quality products. We can ensure that we will complete your project flawlessly regardless of its scope or complexity. Working with us is exceptionally straightforward and stress-free since you will get all your required services under one roof. Our extensive services include roof installation, repair, and maintenance, as well as roof inspections and other roof-related jobs. We are adept in roof installation and provide superior roof repair and maintenance services. Additionally, home purchasers may use our services for professional roof inspections. Our highly skilled roof installers have years of expertise in repairing and maintaining various roof materials. And if you have a shingle roof, we are the company to contact. Our crew is Shingle Master certified, which means we can restore broken or worn shingles quickly and efficiently. Read More About Roofing »


Interior Remodeling
If you're considering improving your home's inner spaces, you need interior remodeling specialists to work on your project. Whether you need some walls repainted in your home or a total overhaul of your kitchen or bathroom space, professional remodelers are what you need. We are qualified and experienced contractors to trust with these specialized tasks. We have been in the construction business for decades, helping clients with everything from foundations to roofs and everything in between. We offer the best bathroom and kitchen remodeling service, and these upgrades add value to your property. We are a credible company with a solid customer base in the region. Our team prides itself on our customer service, our quality of work, and our team's ability to provide you with an outstanding product while respecting your space and time. Read More About Interior Remodeling »


Pool Remodeling
Pools need repairs, renovations, and updates like all other parts of our homes. Let us come and make the process as stress free as possible. From making the repairs and helping you with design selections, our team can help with you every step of the process. Read More About Pool Remodeling »


Storm Damage & Insurance Claims
Unless you have significant experience with the insurance claims procedure, estimating the level of storm damage to your property for filing claims may leave you perplexed. Consider the overall cost of repairs, complete and/or partial damage to your property and any incidental charges. A realistic appraisal is necessary, even more so if you want to make an insurance claim. We provide dependable insurance claim support services to consumers in Texas that want qualified individuals to aid them with their insurance claims. We have previously assisted many clients in the region with expediting their insurance claims and ensuring excellent outcomes. As part of our valuation service, we will help you accelerate the resolution of your claim so that you may get the cash necessary to restore your damaged property. If your roof, patio, outdoor kitchen/fireplace, fence, or other elements of your property have been damaged by a storm, we can assist you in submitting an insurance claim. Read More About Storm Damage & Insurance Claims »


When you hire us for your outdoor living design and installation, you can be sure that you are hiring the best. We are reliable, efficient, and dedicated and work systematically on every project. Our company provides start-to-end design and installation of patio covers, pavilions, outdoor kitchens, pergolas, roofing, and fire features. We know what it takes to provide tailored solutions within our client's budget and provide them value for money. We can install these outdoor structures in existing or new landscapes to get stunning outdoor spaces that will give you and your family years of pleasure and enjoyment. Regardless of your project scope, we are here to help you with the services you need. For additional information about our outdoor living and outdoor structure installation services, please call or text JLC Roofing and Construction at 832-758-2631. You can also send us your queries via this Online Form, and we will respond soon to discuss your requirements.






Items to Consider Before Your Consultation Appointment:
Have your lot survey (or plot map) available for review. This allows us to verify easements and any roadblocks we may run into while discussing the design of your project.
Consider how you plan on using the space. Provide privacy from neighbors, increase shade coverage, allow for protection from the elements, outdoor entertainment area, a kitchen for all seasons, etc. Understanding your intended use of the space will help us provide you with a design of your dreams.
How will you layout your furniture and electrical features? Table/chairs, couches, grilling area, fans, lights, etc.?
Which direction does the sun set in the evenings? Are you looking for maximum shade or more space for rain cover? These factors will affect the design of the roof and are key topics to discuss.
If you've been researching and have inspiration pictures of what you are looking for supply those as well. These are great pieces of information to ensure we deliver exactly what you're envisioning. Pictures showing color schemes, design ideas, or anything that helps us gain a better understanding of the look and feel you want to achieve.



We Provide Services to the Following Cities and Towns in TX: